Nonfiction of Note-When Breath Becomes Air by Paul Kalanithi
I listened to this as an audiobook and the reader did a great job, in my opinion, of capturing the author's story but whether you read or listed to this one, I think it's a great memoir. I was really taken aback by the story of Dr. Kalanithi and it was a beautiful and heartbreaking story. *Spoilers ahead* While studying to be a neurosurgeon, Dr. Kalanithi discovers he has metastatic lung cancer. While this is a terrible revelation, the book is more than just the discovery of his illness.
The beginning of the book is fantastic and details Dr. Kalanithi's early life, his love of literature and writing, and about how he got into medicine. His love for literature was something that really intrigued me and when he begins talking about philosophy, specifically his philosophy on dealing with patients, I was hooked.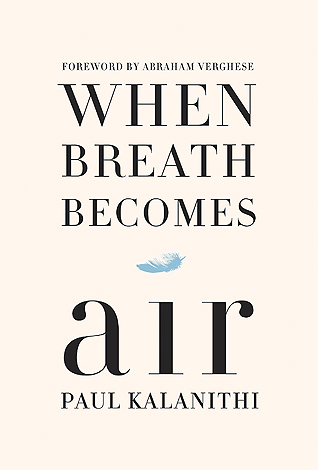 While I don't know his demeanor or can't speak to his treatment of patients, I loved how he painted the idea of a doctor needing to see past the policies and procedures and treat people. I think it's a rare thing when you find a doctor, primary or specialist, who really sees the individual and not the case in front of them.
However, we slowly learn that something is amiss and suspicions of cancer are confirmed when Kalanithi is diagnosed. Yet, his doctor and treatment and resolve all come together and they work to keep him going, even to the point where he is still treating patients. The problem is, as sadly we see too often, the cancer is aggressive and the treatments don't take it out entirely so it slowly eats away at this promising individual to the point that he is given borrowed time.
This book, despite its depressing outcome and topic, is an uplifting tale of someone who pursued a love, lived a curious and thoughtful life, found joy even in dark times, and it's a beautiful read I would highly recommend to anyone looking for a good memoir or even someone who may have been impacted by cancer in some way.